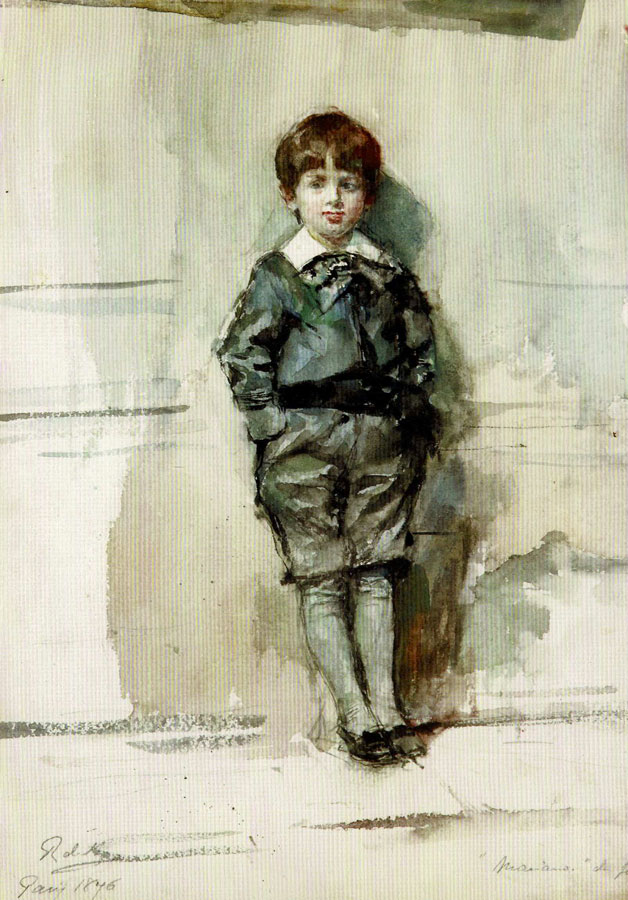 Mariano Buenaventura Isabel Federico Mamerto Cecilio de la Santísima Trinidad was born on 11 May 1871 in Granada, in the Fonda de los Siete Suelos at the Alhambra, after the family, comprised of his father Mariano Fortuny y Marsal, a painter, his mother Cecilia de Madrazo y Garreta and his sister María Luisa, had left Paris the previous year and settled in Spain. The little Mariano grew up surrounded by artists, painters, architects, art critics and artisans, who had a strong influence over him, making him develop a great respect for history and traditions and an unparalleled openness towards other cultures, which were encouraged by the many trips and journeys he took together with his family. After two years in Andalusia, in fact, in the fall of 1873 his father decided to move his residence to Italy, to Rome, at Villa Martinori on the Via Flaminia. He died the following year when he was only thirty-six years old due to a brief illness. In February Cecilia brought her children to Paris, settling first on rue des Ecuries-d'Artois, then at 152 Avenue de Champs-Élysées with her brother Raimundo de Madrazo, who had become a famous painter and portraitist of the Parisian belle epoque high society, and his son Cocò.
After visiting Venice for the first time, Mariano, who was then seven years old, was encouraged by his mother to start painting, following his father's footsteps, first under the guidance of Raimundo, then as a pupil of Benjamin Constant, a painter of oriental subjects and an established portraitist. He met, among others, Paul Baudry, Jean-Louis Meissonier, Leon Bonnat and Jean-Léon Gérôme and attended avant-garde art exhibitions, although he always maintained a traditional approach to painting and felt a profound admiration for the masters of the past, such as Tiepolo, Rubens, Velázquez, Carpaccio, Titian and Tintoretto. Throughout those years he also learned the main engraving and etching techniques, he dedicated himself to portraits and kept traveling with his family, between Venice, Biarritz during summer, Madrid, and again Paris. In 1883 the painter Giovanni Boldini invited Mariano to see some ballets at the new Éden-Théatre, where he was bewitched by what happened in the backstage. His passion for theater and stage technologies arose.
In 1889, in a letter to Raimundo, Cecilia wrote that Paris was become too expensive and too crowded with tourists. In addition, Mariano had frequent asthma attacks, as he was developing an allergy to horses and was susceptible to hay fever. The family thus decided to move permanently to Venice, acquiring Palazzo Martinengo, which is located in San Gregorio, near the Basilica di Santa Maria della Salute and overlooks the Grand Canal, and exhibiting its wide collection of "objets d'art". The nostalgic atmosphere and the oriental influences typical of the city increased the love of an eighteen year old Mariano towards the past so much that he used to visit art galleries, churches, streets and squares with his camera in his hand, in order to immortalize and study them. The family's "salotto" also became an artistic, literary and musical meeting place. The eclectic approach typical of Fortuny, which produced several experimentation and researches in a vast range of disciplines, was taking shape.
Sources:
I Fortuny. Una storia di famiglia
, Museo Fortuny Venezia, Palazzo Orfei, curated by Daniela Ferretti with Cristina Da Roit, 2019
Mariano Fortuny. His Life and Work
, Guillermo de Osma, V&A Publishing, 2015